Being 'plastic-free' is not just good for the environment, it's becoming a draw for tourists looking for inspiration for a sustainable lifestyle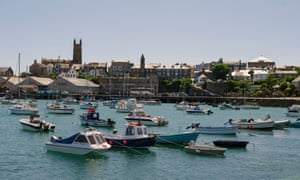 'The oceans, seemingly limitless, invoke in us a sense of awe and wonder…" says David Attenborough's soothingly familiar voice over footage of icebergs and islands. "Plastic has become an integral part of our daily lives," he continues, picking up rubbish from a beach, "but every year some 8 million tonnes of it ends up in the ocean." Attenborough's now-famous message has helped galvanise communities throughout the UK to cut down on single-use, avoidable plastics.
In July 2017 the environmental charity Surfers Against Sewage (SAS) launched a project called Plastic Free Communities. Co-ordinator Rachel Yates says: "It isn't about removing all plastic from our lives, but kicking our addiction to throwaway plastic and changing the system that produces it."
SAS began as a grassroots campaign against polluted seas in 1990. It's partly thanks to its work that the UK has some of Europe's cleanest waters. With nearly 99% of bathing water now exceeding minimum standards (compared with 27% in 1990), the charity has turned its attention to the problem of disposable plastics.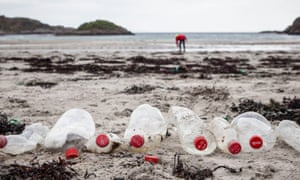 In December 2017, just as Blue Planet II aired its game-changing episode, Penzance became Britain's first "plastic-free" town. Since then, SAS has awarded plastic-free status to another 61 places, and more than 500 have signed up to work towards it. To get the award, communities need, among other things, to get council backing and work with local businesses to reduce their reliance on single-use plastics.
A growing number of tourists are looking for more sustainable options. Yates cites reports of overseas visitors seeing news coverage of Plastic Free Penzance and deciding to visit as a result. Penzance guesthouse owner Jon Matthews predicts: "Those businesses who fail to recognise the environmental concerns of a customer base … will lose more market share in the following years. It's a chance to do the right thing and grow your business at the same time."
Penzance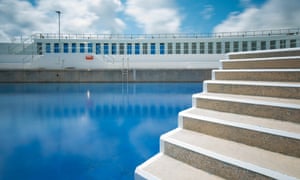 Do With tropical gardens, trendy art galleries, pirate-themed pubs and the magnificent Jubilee Pool about to switch to geothermal heating, arty Penzance has always been a trailblazer. The UK's first plastic-free town is continuing to lead the way, with almost 100 local businesses signed up to the scheme. This year the default traffic announcement sign reads "Welcome to Plastic Free PZ. Reduce, Refill. Rethink."
Wave's Café was one of the first plastic-free champions and only sells takeaway drinks in refill cups. Pop in for vegan nachos or roasted squash salad (each £10.95). Fraser's, a fish and chip shop on the promenade, won 2019's Good Catch award for sustainability and serves ice-cream in compostable pots.
Help clean up The midsummer Golowan Festival (21-30 June), which involves arts, crafts, comedy, a torch-lit procession, fireworks, folk music, a funfair and a lot of street food, is working with Plastic Free Penzance and has a green theme this year. Info for visitors asks them to bring a refillable water bottle and coffee cup, and to shop locally to help reduce their plastic bootprint. SAS coordinator Rachel Yates says one visiting German coach company heard about the scheme and "banned single-use plastic bottles on the coach so they didn't bring them into the town".
This brilliant article was written by Phoebe Taplin
https://woodstockguesthouse.co.uk/wp-content/uploads/2017/08/guest-house-in-penzance-300x29.png
0
0
admin
https://woodstockguesthouse.co.uk/wp-content/uploads/2017/08/guest-house-in-penzance-300x29.png
admin
2019-06-08 07:19:24
2019-06-08 07:23:04
The Guardian - Plastic Free Penzance